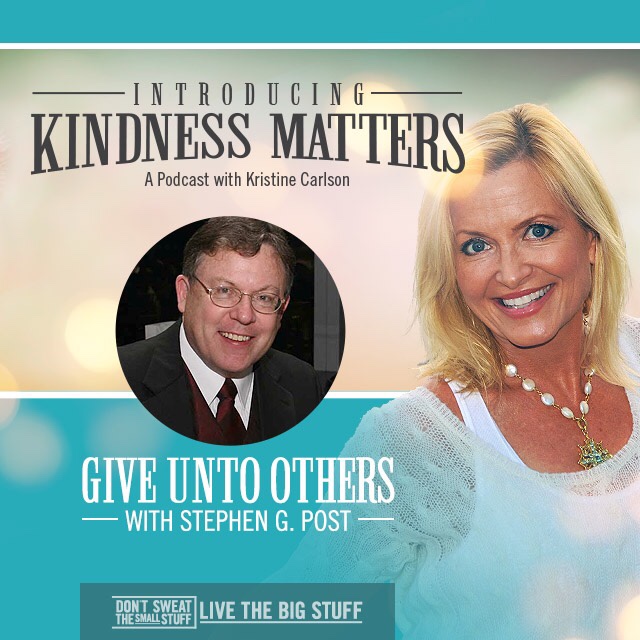 New York Times Best Selling Author, Kristine Carlson invites you to practice Don't Sweat wisdom to achieve greater mental health, and better communication with your family, friends, and co-workers. Learn how to live with more peace and happiness and rediscover your joy, passion, and self-compassion, to awaken your most vibrant life. www.KristineCarlson.com and www.dontsweat.com
Stephen G. Post, Ph.D.  is a researcher and public speaker on how helping others benefits those who give, how empathic care contributes to patient outcomes and professional well-being, how youth who follow the Golden Rule live happier and more resilient lives, how caregivers find meaning and hope in caring for the deeply forgetful, and how positive psychology and spirituality enhance health. He is a best-selling author who has taught at the University of Chicago Medical School, Case Western Reserve University School of Medicine, and Stony Brook University School of Medicine, where he is Founding Director of the Center for Medical Humanities, Compassionate Care, and Bioethics (designated as a special strength of the Stony Brook School of Medicine by the LCME visiting committee. He is an elected member of the College of Physicians of Philadelphia, the New York Academy of Medicine, and the Royal Society of Medicine, London. He is a member of the Editorial Board of Character Strengths and Virtues, the handbook and classification of Positive Psychology.
In this episode, listen to the incredible journey of a true Scholar and Philosopher and man of heart as he shares the soul-warming stories that impacted his incredibly rich journey and show how kindness truly matters. He shares how volunteerism and altruism is at the heart of resiliency and happiness. You can hear the kindness in Dr. Stephen G. Post's voice.