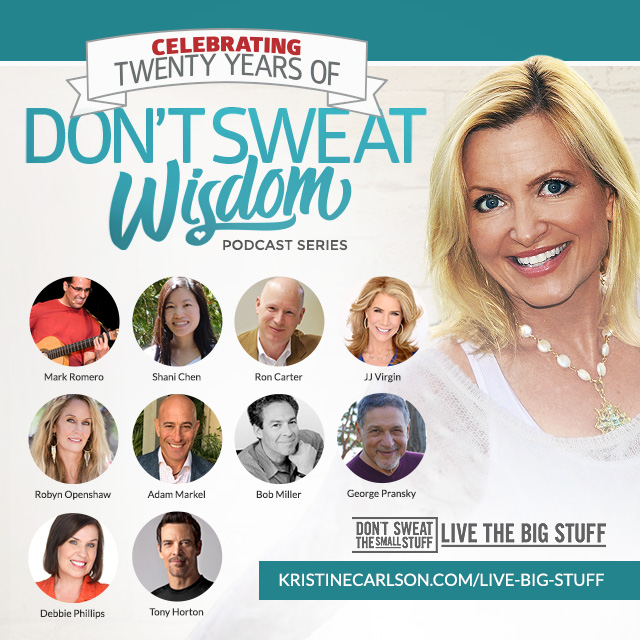 New York Times Best Selling Author, Kristine Carlson invites you to practice Don't Sweat wisdom to achieve greater mental health, and better communication with your family, friends, and co-workers. Learn how to live with more peace and happiness and rediscover your joy, passion, and self-compassion, to awaken your most vibrant life. www.KristineCarlson.com
Kris shares a rich conversation with Adam Markel in how to foster resilience as you pivot through change. Adam Markel is a best-selling author, CEO, attorney, international speaker, entrepreneur, transformational trainer, program designer, and business leader who inspires, empowers and guides people to achieve massive and lasting personal and professional growth. 
A recognized expert in the integration of business and personal development, Adam has led programs for more than 100,000 people around the globe in the areas of business and entrepreneurship, finances, health, spirituality, and relationships. His latest book is the best-selling PIVOT: The Art and Science of Reinventing Your Career and Life.
Known as one of the most charismatic speakers you'll ever see, Adam has shared the stage with superstars such as Tony Robbins and Stedman Graham. He's admired for his refreshing, powerful, practical, and inspiring impact on entrepreneurs, creative thinkers, and leaders.
Adam began his career teaching public school and went on to found a successful international seminar and performance development coaching company, a commercial real estate investment firm, a title insurance company and a multi-state law practice.
In this episode, Adam shares how Don't Sweat the Small Stuff about Money helped him build resilience and presence as he did his own pivot turn and changed careers to live a life he now loves.